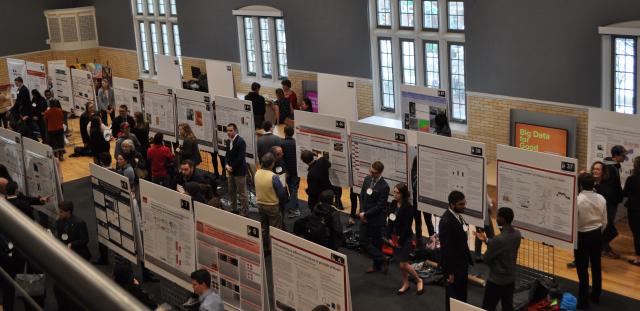 The Richard J. and Martha D. Denman Undergraduate Research Forum is an annual event that showcases research projects from the brightest undergraduates at Ohio State. Since 1995, the Denman family has supported this forum, and continues to promote Ohio State as alumni.
The Denman Forum provides an opportunity for graduating student researchers to share their research endeavors with the broader community.  This is our only competitive poster forum in which winners are recognized in each category as determined by faculty, staff, and Denman alumni reviewers.  Students will be reviewed on their ability to communicate their research process and results effectively in both their written poster content and accompanying oral presentation.  During the Denman Forum, we celebrate not only the hard work of these students, but also the dedication of their faculty research mentors.
In addition to the generous awards provided by the Denmans, we also partner with several organizations to award discipline-specific prizes, including the Infectious Disease Institute, Center for Ethics and Human Values, Sustainability Institute, and Ohio Academy of Sciences.  Students researching topics related to these fields are especially encouraged to apply to present at the Denman Forum!
Photos from the 28th Annual Denman Research Forum can be found on UR&CI's Flickr and Instagram
Application Information
The 28th annual Denman Undergraduate Research Forum for 2023 has passed.  Applications for the 29th annual event will open in January 2024.
When and where will the 29th annual Denman Undergraduate Research Forum be held in 2024?

The Denman Forum for the 2023-2024 academic year will take place on Tuesday, March 5, 2024, in the TDAI Ideation Zone (Rm 320), Pomerene Hall, 1760 Neil Ave., Columbus, OH 43210. Exact times and categories will be determined after applications have been received.
Can I view posters and abstracts from prior Denman Forums?

Yes!  Denman Forum participants can submit their posters and abstracts to the Denman Undergraduate Research Forum collection in the OSU Libraries' Knowledge Bank.  All approved submissions are publicly accessible.
How do I print out my poster for the Denman?

Uniprint offers a self-service 36 x 48 poster printing at Thompson Library on the first floor for $14.00. Please visit their Poster Printing Instructions webpage for additional steps.

Poster Printing Instructions (Print from PowerPoint Desktop App) - ​​​

1. Log into a library desktop computer (do not use a personal computer).

2. Open the file you would like print - I personally suggest saving the PowerPoint to a PDF and saving the PDF to the desktop on the PC. Then proceed using the PDF File from the desktop.

3. Open the "change the printer" dropdown menu, click "see more" and choose Thompson 160 Plotter.

4. Click the printer properties link just below the printer dropdown menu.

5. Use the dropdown menu to choose the size of your poster, by clicking the "see more" option. a. Arch B – 12 x 18 - $3.80 b. Arch C – 18 x 24 - $5.00 c. Arch D – 24 x 36 - $8.00 d. Arch E – 36 x 48 - $14.00 DO NOT SELECT OVERSIZE ARCH and ensure option says "Arch _" not just B, C, D, or E.

6. Click the layout/output tab and have settings at "landscape" and "rotation: 90 degrees." Please note that your poster will be cut off if you skip this step.

7. Click okay, then click print. Type your last name.#.

8. Posters can be printed at the Plotter printers in Thompson 160 and Thompson 122. Swipe your BuckID or type in your last name.# to release the poster.

For questions, please contact us at UniServiceCenter@osu.edu.
Denman 2023 Winners
The 28th annual Denman Undergraduate Research Forum included over 200 presentations from senior undergraduate researchers. We congratulate all our participants for their hard work throughout their undergraduate research experience! Every presentation received scored reviews from three separate faculty or alumni reviewers. These scores were totaled to determine winners in each of our 10 categories.  Winners were invited to an awards reception on Thursday, March 9, 2023, where they received a certificate of scholarship, placement medallion and ribbon, and cash prize. Thanks to the generosity of the Denman family, our Honorable Mention winners received $200; Third Place received $300, Second Place, $400; and our First Place winners received $500. The Denman Forum is meant to showcase research from the brightest undergraduates at Ohio State, and we applaud these students for this well-deserved honor and celebrate their excellent work and determination! Please select a category below to read the winners' names and project titles.  
Animal Sciences

First Place: Marie Walton, "Lepidopteran Diversity in a Restored Prairie"

Second Place: Jimmy Erkens, "Comparing Bayesian and frequentist analyses of stress-related enamel defects in Papio ursinus and Papio anubis"

Third Place: Maria Fiorta, "Understanding how light pollution affects mosquito blood-feeding and molecular biology"

Honorable Mention: Airianna McGuire, "An Evaluation of Tau Across Various Temperatures in Zebrafish (Danio Rerio)"
Business & Society

First Place: Shrishti Shrivastava, "Victim to Survivor to Thriver: Understanding the Population of Human Trafficking Victims in Ohio"

Second Place: Jennifer Gunawan, "The Marketability of High-Priced Stocks After Fractional Trading" ​

Third Place: Madyson Webb, "Integrated Grocery Service Vehicle Improvements"

Honorable Mention: Olivia Baker, "First-Generation Vulnerabilities, Gender and Help-Seeking"
Earth & Beyond

First Place: Cassidy Brozovich, "Envisioning How Historical, Current, and Future Climate Relate to Urban Stormwater Control Measure Effectiveness"

Second Place: Madison Kacica, "Estimating the benefits of legacy phosphorus fields for targeted best management practices"

Third Place: Sydney Petz, "What can we find in the atmosphere of exoplanet KELT-20b?"

Honorable Mention: Caitlin O'Brien, "Parameterizing Splashback Radius-Mass Relations of Galaxy Clusters with IllustrisTNG Simulations"
Engineering & Technology

First Place: William York, "Development of a Coupled, Acoustic–Structural Model of a Speaker with Focus on Inverse Parameter Identification Methods"

Second Place: Annie Roo, "Enabling Professional Intervention Points for the Process of Stroke Rehabilitation"

Third Place: Oscar Coppola, "An Extension of Stanley's Symmetric Acyclicity Theorem to Signed Graphs"

Honorable Mention: Mitchell Wong, "Validating a UAS Model for Conditions Seen in an Engine Ingestion"
Health Under the Microscope

First Place: Gabriella Gephart, "Isolation of antimicrobial-producing bacteria from artisanal cheeses and characterization of potentially novel antimicrobial agents produced"

Second Place: Madisen Bangs, "Streptococcus mutans Isolates Exhibit Diverse Phenotypes Dependent on Commensal Competitor"

Third Place: Nickolai Seculov, "Fats Fine-tune the Flame: Signaling Lipids Mediate Muscle Metabolism after Burn Injury"

Honorable Mention: Eleanor Richardson, "Effect of Aging on the Plasma Membrane Repair in Multiple Cell Types"
The Human Experience

First Place: Phelix Rodriguez, "Are illusory objects used strategically to optimize visual working memory?"

Second Place: Vivian Corey, "Mat Pilates Training Effects on Active Turnout and the Kinetic Chain: A Case Study"

Third Place: Hannah Fouts, "A Qualitative Investigation into Student Perceptions of Diversity, Equity, and Inclusion After Taking an Inclusive Leadership Course"

Honorable Mention: Angela Ciarorchi, "Dance like a Man?: Investigating Masculine Aesthetics in Contemporary Dance through Archival Analysis and Embodied Practice"
Innovations in Medicine

First Place: Erica Dale, "Use of human precision cut-lung slices as an ex vivo model to study age-related lung diseases"

Second Place: Shivangi Mohta, "βIV-spectrin is responsible for orienting concentric versus eccentric cardiomyocyte hypertrophy by altering microtubule stability"

Third Place: Grace Sullivan, "Efficacy and Safety of a Novel Fusogenic Oncolytic Herpes Simplex Virus"

Honorable Mention: Mohammed Aidja "Effects of obesity and aging on the contractile reserve of the heart"
Pediatric & Family Health

First Place: Ashland Damron, "Get Back to Green: Understanding and improving education on the process of emotion regulation for students ages 5 to 7"

Second Place: Heema Vyas, "Effects of in utero and post-natal nicotine exposure on murine palate development"

Third Place: Christina Cotrone "Investigating the associations between HIV-1 exposure during pregnancy and adverse birth outcomes such as low birth weight, stillbirth, and preterm labor"

Honorable Mention: Meredith Stewart, "Effects of Adolescent Hormonal Contraceptive Administration on Endocrine Function, Anxiety and Impulsive Behavior in a Rat Model "
Public Health

First Place: Monica Shah, "Modeling the transmission and immunodynamics of SARS-CoV-2 in Columbus, OH, USA using state-reported and wastewater data"

Second Place: Alexandra Coyne, "Disability discrimination in kidney transplantation: Comparing transplant rates and outcomes among adults with and without intellectual and developmental disabilities"

Third Place: Miranda Kinsell, "Flavor Preferences Among Adolescent and Young Adult E-Cigarette Users"

Honorable Mention: Sarah Haysley, "The effect of self-perceived hearing ability on auditory fatigue and effort"
Understanding Cancer

First Place: Aneesh Zutshi, "In vitro model of Glioblastoma to study subpopulation induced extracellular matrix changes"

Second Place: Rakesh Murugesan, "Stimulation of NOD2 (by MTP-PE) in AML potentiates NK cytotoxicity by upregulation of NK activating ligands and IL-15"

Third Place: Prathik Chakravarthy, "Ral-mediated Radiation Resistance in Soft Tissue Sarcomas"

Honorable Mention: John Fuller, "Associations Between Social Network Support and Frequent Mental Distress among Sexual and Gender Diverse Cancer Survivors"