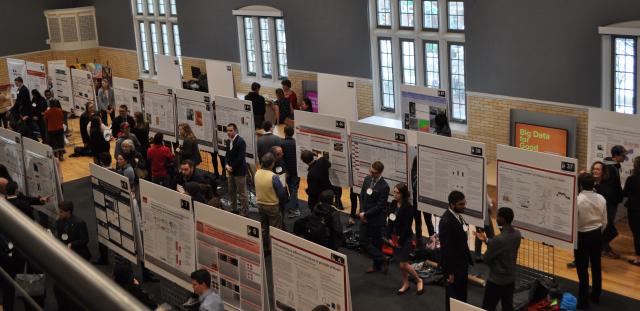 The Richard J. and Martha D. Denman Undergraduate Research Forum is an annual event that showcases research projects from the brightest undergraduates at Ohio State. Since 1995, the Denman family has supported this forum, and continues to promote Ohio State as alumni.
The Denman Forum provides an opportunity for graduating student researchers to share their research endeavors with the broader community.  This is our only competitive poster forum in which winners are recognized in each category as determined by faculty, staff, and Denman alumni reviewers.  Students will be reviewed on their ability to communicate their research process and results effectively in both their written poster content and accompanying oral presentation.  During the Denman Forum, we celebrate not only the hard work of these students, but also the dedication of their faculty research mentors.
The 28th Annual Denman Forum application will ask for the following items:
Section I:          Student's Background and Contact Information
Section II:         Research Mentor's Name and Contact Information
Section III:        Research/Creative Project Title, Abstract and Category Selection
Section IV:        Research/Creative Project Co-Presenter and Co-Author Listing
Section V:         OSU Advising Report Upload (used to verify 2023 graduation)
Section VI:        Student's Electronic Signature
Application Information
The application for the 28th annual Denman Undergraduate Research Forum will open Wednesday, December 21, 2022 at 8:00 a.m. and will close on Sunday, February 5, 2023 at 11:59 p.m. The application is only open to students who are graduating during spring, summer, or autumn 2023.
When and where will the 28th annual Denman Undergraduate Research Forum be in 2023?

The Denman Forum for the 2022-2023 academic year will take place on Tuesday, March 7, 2023, in the TDAI Ideation Zone (Rm 320), Pomerene Hall, 1760 Neil Ave., Columbus, OH 43210.  The public is welcome to attend, so mark your calendars!
Can I view posters and abstracts from prior Denman Forums?

Yes!  Denman Forum participants can submit their posters and abstracts to the Denman Undergraduate Research Forum collection in the OSU Libraries' Knowledge Bank.  All approved submissions are publicly accessible.
How do I print out my poster for the Denman?

Uniprint offers a self-service 36 x 48 poster printing at Thompson Library on the first floor for $14.00. To avoid errors or confusion, below are poster printing instructions:

Poster Printing Instructions (Print from PowerPoint Desktop App) - ​​​

1. Log into a library desktop computer (do not use a personal computer).

2. Open the file you would like print - I personally suggest saving the PowerPoint to a PDF and saving the PDF to the desktop on the PC. Then proceed using the PDF File from the desktop.

3. Open the "change the printer" dropdown menu, click "see more" and choose Thompson 160 Plotter.

4. Click the printer properties link just below the printer dropdown menu.

5. Use the dropdown menu to choose the size of your poster, by clicking the "see more" option. a. Arch B – 12 x 18 - $3.80 b. Arch C – 18 x 24 - $5.00 c. Arch D – 24 x 36 - $8.00 d. Arch E – 36 x 48 - $14.00 DO NOT SELECT OVERSIZE ARCH and ensure option says "Arch _" not just B, C, D, or E.

6. Click the layout/output tab and have settings at "landscape" and "rotation: 90 degrees." Please note that your poster will be cut off if you skip this step.

7. Click okay, then click print. Type your last name.#.

8. Posters can be printed at the Plotter printers in Thompson 160 and Thompson 122. Swipe your BuckID or type in your last name.# to release the poster.

For questions, please contact us at UniServiceCenter@osu.edu.
The 27th annual Denman Undergraduate Research Forum included over 160 presentations from senior undergraduate researchers.  We congratulate all our participants for their hard work throughout their undergraduate research experience!  Every presentation received scored reviews from three separate faculty or alumni reviewers.  These scores were totaled to determine winners in each of our 10 categories.  Winners were invited to an awards reception on Thursday, March 10, 2022, where they received a certificate of scholarship, placement medallion and ribbon, and cash prize.  Thanks to the generosity of the Denman family, our Honorable Mention winners received $200; Third Place received $300, Second Place, $400; and our First Place winners received $500.  The Denman Forum is meant to showcase research from the brightest undergraduates at Ohio State, and we applaud these students for this well-deserved honor and celebrate their excellent work and determination!  Please select a category below to read the winners' names and project titles.  
Insects and Other Animal Sciences

First Place: Eleanor MacDonald, "Patterns of Toxonomic and Ecological Diversity of non-bee Pollinator (Diptera: Syrphidae) in Ohio"

Second Place: Mitchell Ticoras, "A Study of Algal Mutants Deficient in Respiratory Growth"

Third Place: Amber Clegett, " Prevalence of Influenza A virus in exhibition swine and youth exhibitors at a national jackpot swine show 2021"

Honorable Mention: Camden Dezse, "Larval habitat microbiota influences male Aedes aegypti life history traits"
Domestic and International Relations

First Place: Mac Lang, "COVID-19 Vaccination Networks and Chinese Foreign Policy"

Second Place: Aiden Morris, "Disease in the British Army in India: Colonial Investigations and Interventions (1863-1900)"

Third Place: Joshua Goetz, "Analysis of a Novel Solution to the Israel-Palestine Conflict"

Honorable Mention: Lily Johnson, "Purchase Intentions and the Display of Pricing"
Earth and Beyond

First Place: Shannon Dixon, "The Effect of Long-term Temperature and pH Stress on Symbiodiniaceae Density in Montipora capitata, Porites lobata, and Porites compressa Coral"

Second Place: Chance Carafice, "Applying Machine Learning to Create Timeseries Records of Changes in Tropical Glacier Environments"

Third Place: Kathryn Zic, "Lead in Columbus, Ohio Tap Water"

Honorable Mention: Kara Komarnitsky, "Embodying Interconnection: Dance and Interactive Technology as Environmental Activism"
Engineering and Technology

First Place: Timothy DeFranco and Calvin Chandler, "Investigation into the Diffusion Bonding (DB) of 316L Stainless Steel (SS) with Boron Carbide for Nuclear Thermal Propulsion (NTP) Applications"

Second Place: Nathan Gajowski, "InAs Infrared Detector Characterization: Quantum Efficiency and Gain"

Third Place: Chen Liu, "Optimizing Microstructural Interfaces between Cathode and Electrolyte in Sulfide-based Solid-state Lithium-Ion Batteries"

Honorable Mention: Matt Shmukler, "Magnetization Dynamics in Bilayers of Ferromagnetic Thin Films"
Health under the Microscope

First Place: Hannah Lichtenstein, "Early Life Stress and Microglia Phagocytosis in Male and Female Rats"

Second Place: Diego Torres, "PRC2 disruption via EZH2 inhibition reduces Müller Glia reprogramming potential"

Third Place: Rosemary Zaleski, "Novel glutamine synthetase activity on an Amadori substrate: new bottle for an old wine"

Honorable Mention: Lexi Filburn, "PAK Inhibition Increases Müller Glia-derived Progenitor Cell Generation in the Chick Retina"
The Human Experience

First Place: Adrian Walls, "Beauty and Enslavement in the Ancient Greek Novels"

Second Place: Kate Knnaird, "Stigma and Sentiment: The Perception of Terms Related to Sex Industry Participants"

Third Place: Kiara Devese, "Ruptures and Repairs in Cross-Race Mentor Relationships: Informed Mentorship for Black Graduate Students"

Honorable Mention: Hali Clark, "Effects of lexical competition, dialect familiarity, and dialect exposure on lexical processing"
Innovations in Medicine

First Place: Laurel Cumby, "Characterizing Fibrotic Tissue in Duchenne Muscular Dystrophy Cardiomyopathy"

Second Place: Gretchen Murray, "Predictive energy equations are correlated with indirect calorimetry in critical care: Is correlation good enough?"

Third Place: Pratima Prabala, "The Therapeutic Role of Engineered Extracellular Vesicles in Acute Respiratory Distress Syndrome" 

Honorable Mention: Benjamin Templeton, "Regulation of troponin-I calpain mediated proteolysis by Tyr-26 phosphorylation"
Pediatric and Family Health

First Place: Abhishek Rajesh, "Adolescent Hormonal Contraceptive Administration Impacts the Prefrontal Cortex and HPA axis of Female Rats"

Second Place: Blaine Hafen, "Forging Emotional Bonds in Families with Cognitive or Physical Limitations through Collaborative Physical Gameplay Interactions and Controller Design"

Third Place: Brooke Schatz, "The Cognitive and Inflammatory Effects of Juvenile Traumatic Brain Injury in a Rodent Model"

Honorable Mention: Mitali Dalwalla, "Perinatal depressive symptoms and birth timing after miscarriage among Black American women"
Public Health

First Place: Kaitlyn Jiang, "Bioactive (Poly)phenol Concentration in Plant Based "Milk" Beverages"

Second Place: Joselyn Sarabia, "Firefighter Preference Regarding Critical Incident Stress Debriefing as a Post-Critical Incident Intervention"

Third Place: Samuel Borgemenke, "Regressing Factors Relating to Ohio Drug Overdose Rate"

Honorable Mention: Anne Longo, "The Impact of Social and News Media Coverage on the Dissemination of Autism Research"
Understanding Cancer

First Place: Eric Naumann, "Elucidating the Function and Therapeutic Potential of DANCR in Acute Myeloid Leukemia"

Second Place: Anna Matzko, "Cytoskeletal Dysfunction in Tyrosine Kinase Inhibitor Induced Cardiotoxicity"

Third Place: Nikolas Shilo, "Type 3 Innate Lymphoid Cells Directly Support Acute Myeloid Leukemia Resistance to Immune Surveillance"

Honorable Mention: Leah Marek, "Improving Prediction of Chemotherapy-induced Nausea: Integrating Genes, Behavior, and the Microbiome"